Other Cutworms, Too Early for Black Cutworm - (Christian Krupke and John Obermeyer) -
• Many species of cutworms feed on corn and soybean.
• Black cutworm is the most common and damaging species but is a migrant into the state and is slow to develop in these cool temperatures.
• The dingy, variegated, and claybacked cutworm species all overwinter as partially grown larvae.
• The dingy and variegated cutworms are mainly leaf feeders, whereas the claybacked will also cut plants.
• Seed treatments aren't highly effective against these other species, because of their large size when feeding.
We continue to be impressed with the number of black cutworm moths being captured by our pheromone trap cooperators, see "Black Cutworm Adult Pheromone Trap Report." Though we are wary of the potential impact these larvae could have on the soon planted corn crop, we know that heat units have been slow in coming…as well as the black cutworm's development. One astute agronomist from northern Indiana sent us a report about cutworms feeding on an emerging cornfield (yes, there is some corn out there). Many cutworm species look alike and identification is often confusing. Generally, the black cutworm is our most commonly found species damaging the crop, which is why most assume it the culprit when damage is found.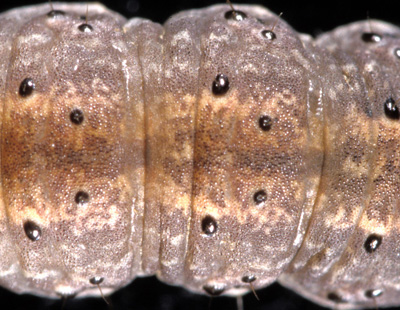 Notice the course texture, bumps, of the black cutworm skin
Black cutworms do not overwinter in the Midwest, which is why we monitor their arrival each spring with pheromone traps. Once they arrive in large numbers (also called "intensive captures") we begin predicting their development and subsequent damage with heat unit accumulations. We received multiple intensive captures on, and around, April 15 and have begun tracking their development (see accompanying map). There have not been sufficient heat units accumulated this spring for black cutworm to get 1/2 to 3/4 inches long – the size when they begin to cut plants. So, if one is finding cutworm damage on emerged corn at this time, there is another cutworm species to blame…that being one of the dingy, variegated, and/or claybacked cutworms.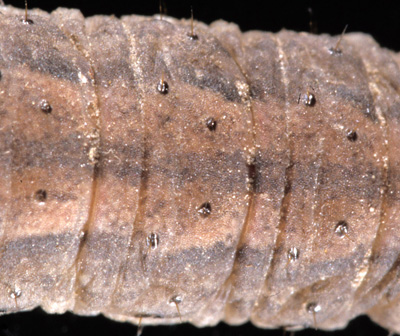 Close-up of the dingy cutworm skin shows that it is relatively smooth
The dingy, variegated, and claybacked cutworm species all overwinter in Indiana as partially grown larvae. They actively feed on many forage and weedy plants in the fall, where they cease feeding and become dormant under mats of plants (e.g., chickweed) for their winter's nap. As temperatures begin to increase in the early spring, they resume feeding. When weeds are killed by spring herbicide applications, they move to alternate food sources… if available, this could include the emerging crop. Because these larvae are about ¾ inch in length at this time of year, they aren't deterred much by the relatively low-rate of insecticidal seed treatments. Therefore, depending on density of worms and the rate of the crop's growth and development, damage can be quite significant.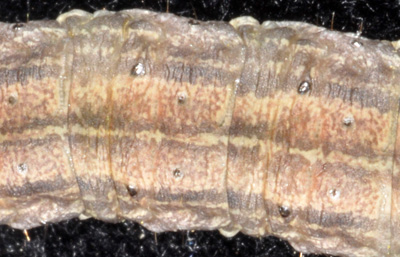 Claybacked cutworm skin texture is similar to the dingy, mostly smooth
The dingy and variegated cutworms are primarily leaf feeders and will rarely cut plants, and if they do, the cutting is above ground level. Because a corn plant up to the 5-leaf stage can withstand severe defoliation without a yield loss (compare it to frost damage), treatment for these cutworms is rarely justified. However, the claybacked cutworm's damage is a mix of leaf feeding and plant cutting so black cutworm thresholds should be followed. To add to the confusion, other species of cutworms may be encountered feeding on crops as well. The sandhill cutworm, as its name implies, is found on sandy knolls. Sandhill and the glassy cutworms tend to be a perennial threat in specific environments, most producers that have experience with them are quite aware of their destructive abilities.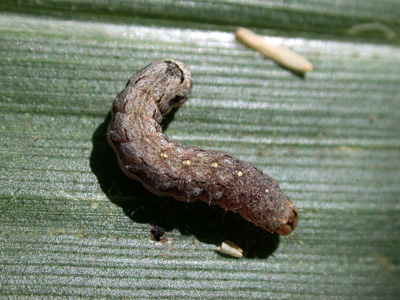 Varigated cutworm have distinct dorsal, yellowish dots on several of both segments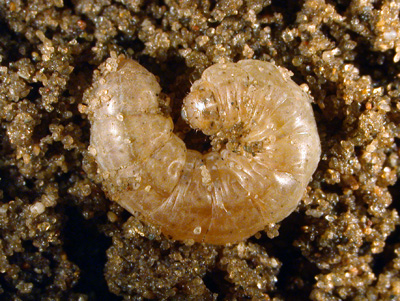 Sandhill cutworm are smooth and almost translucent
Identification of these cutworm species is a little tricky and requires a pretty good understanding of morphological characteristics of immature insects, a course taught in Entomology. In short, while using a 10X magnifying lens, carefully analyze the skin texture of the worm. If it is considerably "bumpy," it is most likely a black cutworm. The other cutworm species have smooth skin. Species identification can be confirmed by sending us live or "pickled" worms. Please contact us before doing so. Happy Scouting!

Accumulated Heat Units for Black Cutworm

Click here to see the Black Light Trap Catch Report

Click here to see the Black Cutworm Adult Pheromone Trap Report

Fusarium Head Blight Update – (Kiersten Wise)
Wheat in southern Indiana is heading out and some fields will begin to flower this week. The recent rainy weather may have caused concern about development of Fusarium head blight, or scab, but the cool temperatures this week have kept many areas majority at low to medium risk for Fusarium head blight according to the wheat scab risk model that was discussed in last week's Pest and Crop article. This risk assessment tool can be accessed through <http://www.wheatscab.psu.edu/>.
There is a slight chance of rain later in the week in southern IN, followed by warmer weather. The wet, warm weather could increase the risk for infection by the fungus that causes FHB. This fungus, Fusarium graminearium, infects wheat during flowering, beginning at Feekes 10.5.1, and prefers rainy, warm, and humid weather conditions for infection and disease development.
Producers in southern areas of Indiana that have Fusarium head blight-susceptible varieties planted may choose to apply a fungicide. Fungicide applications need to be made at Feekes 10.5.1, or early flowering. There are several fungicides available for Fusarium head blight control, and these are listed in the foliar fungicide efficacy table developed by the North Central Regional Committee on Management of Small Grain Diseases or NCERA-184 committee: <http://www.ppdl.purdue.edu/ppdl/wise/NCERA_184_Wheat_fungicide_chart_2010_v2.pdf>.
Caramba, Prosaro, and Proline were given a rating of "good" based on a designation system from the Regional Wheat Disease Committee. Products containing only tebuconazole (Folicur, others) were rated as fair, and propiconazole alone (Tilt, others) was rated as poor for management of Fusarium head blight. Remember, fungicides that have a strobilurin mode of action are not labeled for Fusarium head blight suppression. Be sure to follow label restrictions on how many days must pass between fungicide application and harvest.
Low levels of foliar diseases such as Septoria/Stagonospora leaf blotch have been observed in some fields, but overall, foliar disease levels are low. We will need to continue to monitor the level of risk for Fusarium head blight development in wheat in central and northern Indiana as the crop approaches heading in these areas.



"Snagged" Wheat Heads and Cold Temperatures - (Shaun Casteel)
Wheat acres in Indiana have had a challenging season since last fall: bone-dry soils at planting (stand establishment), prolonged winter with freezing rain, sleet, and snow (winter survival), and cold and wet soils during green-up (nitrogen rates and losses due to topdressing timings). The recent colder temperatures are now causing some abnormal growth of wheat that is near the heading stage.
Many wheat fields are in the boot to head stages in southern Indiana with the central and the northern areas to follow. Cold temperatures will slow the growth rate of wheat and the emergence of the head. The extended time for head emergence can result in funny looking wheat. The tip of the head will "snag" at the flag leaf collar and begin to split the leaf sheath at the boot (Figure 1). The plant will continue to push the head, and it will begin to extend out the leaf sheath split. The tip of the head will often stay "snagged" as the head continues to slowly emerge (Figure 2). The "snagged head" will eventually pull away from the flag leaf collar or push through the flag leaf collar. A "snagged head" will usually straighten depending on how "snagged" it is. Figure 3 shows a semi-straightened head that resulted from an earlier "snag." "Snagged" wheat heads should not negatively influence grain yield.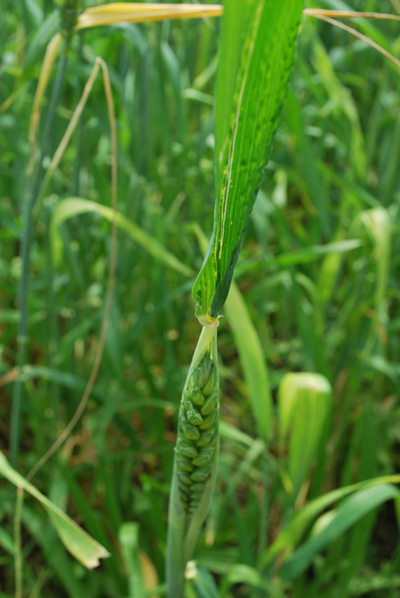 Figure 1. Tip of wheat head snagged on the flag leaf collar and thus, head splitting the leaf sheath.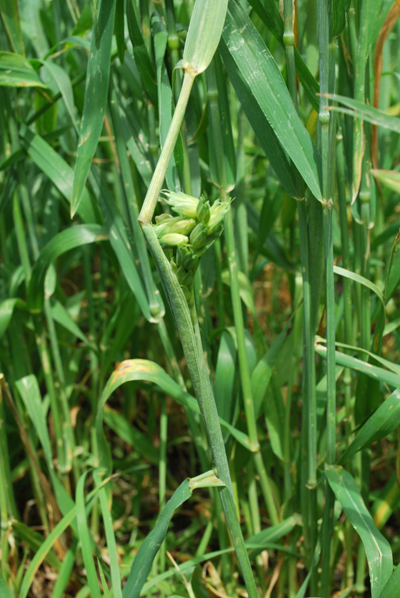 Figure 2. Tip of wheat head snagged on the flag leaf collar and the rest of the head is pushed out the side.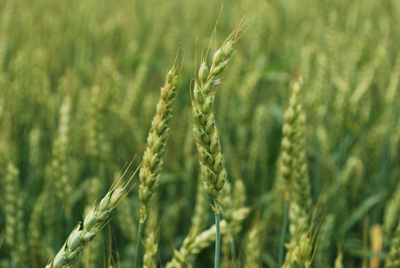 Figure 3. Semi-straightened wheat head that resulted from a snag during head emergence.